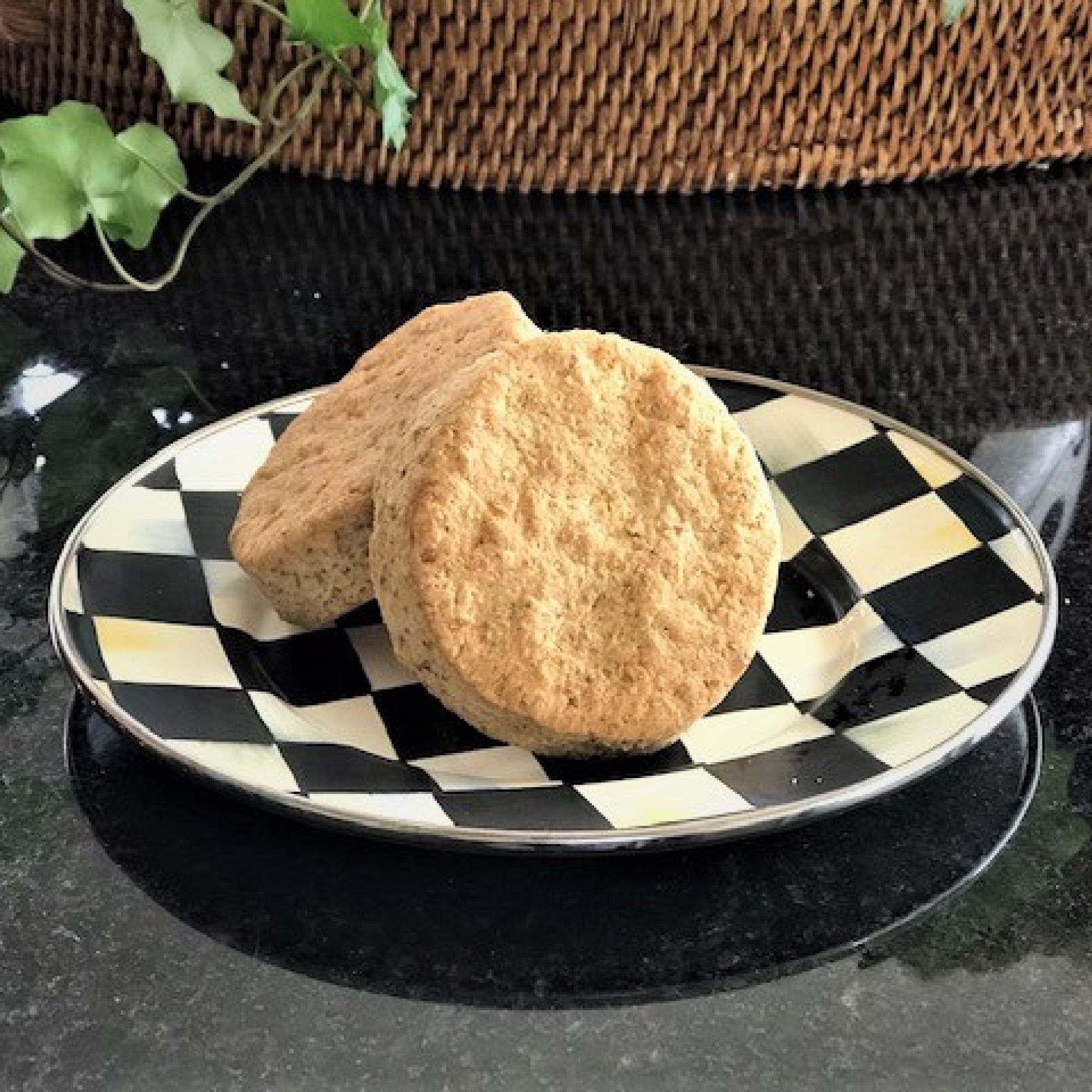 Recipe by Chef Chip
September 24 2020
Ingredients
2 Cups Divided Sunset Keto Flour
1 Tablespoon Baking Powder
1/2 Tablespoon Baking Soda
1/2 Teaspoon Salt
6 Tablespoons Unsalted (very cold) Butter
1 Tablespoon Monk Fruit Sweetener with Erythritol (Substitute your Favorite Zero Calorie Sweetener)
1 cup Unsweetened Unflavored Almond Milk
Preparation
Step 1
FOR BEST RESULTS CHILL YOUR BUTTER IN THE FREEZER FOR 10-20 MINUTES BEFORE BEGINNING THIS RECIPE. THE BUTTER NEEDS TO BE COLD FOR A LIGHTER BISCUIT.
Step 2
LINE A COOKIE SHEET WITH PARCHMENT PAPER AND PRE-HEAT THE OVEN TO 425 DEGREES. IN A LARGE MIXING BOWL, COMBINE THE KETO FRIENDLY FLOUR, BAKING POWDER, BAKING SODA, SUGAR, SALT AND SET TO THE SIDE.
Step 3
REMOVE YOUR BUTTER FROM THE FREEZER A CUT INTO VERY SMALL CUBES OR YOU CAN USE A BOX GRATER TO SHRED THE BUTTER INTO SMALL PIECES.
Step 4
ADD THE BUTTER TO THE FLOUR AND MIX UNTIL IT RESEMBLES COARSE CRUMBS. YOU CAN USE A PASTRY CUTTER OR A FORK TO DO THIS.
Step 5
ONCE COMPLETE, ADD THE MILK AND USE A WOODEN SPOON TO STIR UNTIL COMBINED. (DON'T OVER WORK THE DOUGH). MIX UNTIL ITS JUST INCORPRATED TOGETHER AND YOU SEE SMALL FLECK OF BUTTER THROUGHOUT THE DOUGH.
Step 6
TRANSFER THE DOUGH TO A LARGE PIECE OF PARCHMENT PAPER ON A COUNTER AND USE YOUR HAND TO WORK THE DOUGH TOGETHER. ONCE THE DOUGH IS COHESIVE, FOLD IN HALF OVER ITSELF AND FLATTEN THE LAYERS. ROTATE THE DOUGH AND FOLD IN HALF OVER ITSELF AND FLATTEN. REPEAT 3 T0 4 TIMES. THE DOUGH WILL FEEL SLIGHTLY WET.
Step 7
ONCE COMPLETE, FLATTEN OUT THE DOUGH BALL INTO A 1" THICK SLAB OF DOUGH. (YOU CAN DO THIS BY HAND, NO ROLLING PIN NEEDED. TAKE A 2 ¾ INCH ROUND CUTTER AND STAMP OUT AS MANY BISCUITS AS POSSIBLE AND TRANSFER THOSE BISCUITS TO A BAKING SHEET. (YOU CAN REWORK THE REMAINING DOUGH BACK INTO A SLAB AND CUT ANY REMAINING BISCUITS THAT REMAIN.) BRUSH THE TOP OF EACH BISCUIT WITH MELTED BUTTER.
Step 8
PLACE BISCUITS ON THE MIDDLE WRACK OF A PRE-HEATED 425 DEGREE OVEN FOR 12 TO 14 MINUTES OR UNTIL THEY ARE A LIGHT GOLDEN BROWN.
Step 9
SERVE WARM. ANY REMAING BISCUITS CAN BE STORED IN AN AIRTIGHT CONTAINER FOR UP TO 2 TO 3 DAYS.