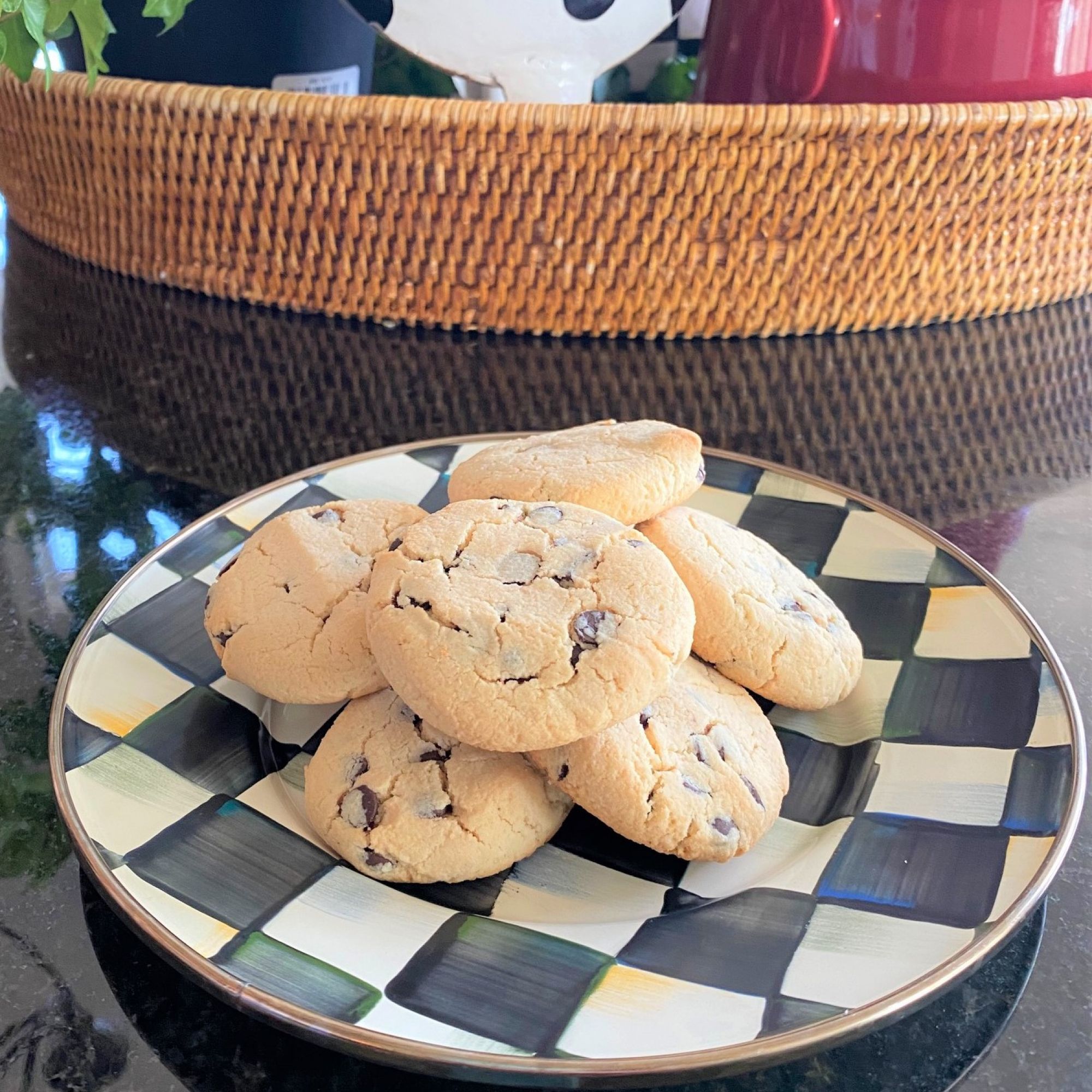 Recipe by CHEF CHIP
September 28 2020
Ingredients
2 CUPS DIVIDED SUNSET PALEO FLOUR MIX
¼ TEASPOON SEA SALT
½ TEASPOON BAKING SODA
½ CUP SALTED BUTTER (ROOM TEMPERATURE)
1 TABLESPOON VANILLA EXTRACT
½ CUP MAPLE SYRUP
½ CUP CHOCOLATE CHIPS.
Preparation
Step 1
PREHEAT OVEN TO 350 DEGREES AND LINE A BAKING SHEET WITH PARCHMENT PAPER
Step 2
PLACE THE BUTTER INTO A MIXING BOWL. WITH A HAND MIXER OR STAND MIXER ON MEDIUM TO HIGH SPEED START CREAMING THE BUTTER. SLOWLY START ADDING THE MAPLE SYRUP AND MIX UNTIL THE MAPLE SYRUP IS WELL INCORPORATED AND IS LIGHT AND FLUFFY. (ABOUT 4 MINUTES)
Step 3
ADD THE SALT, BAKING SODA, FLOUR, AND VANILLA TO THE BUTTER MIXTURE AND MIX ON MEDIUM SPEED UNTIL COMPLETELY INCORPORATED. (ABOUT 2 MINUTES).
Step 4
ONCE COMPLETE USING LOW SPEED, ADD IN THE CHOCOLATE CHIPS AND MIX UNTIL COMBINED.
Step 5
USING A TABLESPOON, PORTION OUT THE EQUIVALENT OF 2 TO 3 TABLES SPOONS OF DOUGH AND ROLL THEM INTO BALLS AND PLACE EVENLY ON A COOKIE SHEET ABOUT 2" APART.
Step 6
SLIGHTLY FLATTEN THE DOUGH BALLS SO THEY ARE EVEN ACROSS THE ENTIRE COOKIE (DON'T FLATTEN TO THIN), AND PLACE IN THE OVEN ON THE MIDDLE WRACK AND BAKE AT 350 DEGREES FOR 8 TO 10 MINUTES AND REMOVE
Step 7
ALLOW COOKIES TO COOL FOR 10 MINUTES ON THE COOKIE SHEET AND THEN TRANSFER WITH A SPATULA TO A COOLING RACK. COOL COMPLETELY BEFORE CONSUMING.